Off-Road,
Off-Grid

,

Off-the-Charts

Adventure!
Venture would like your assistance evaluating our latest concept vehicle. We created a totally new towable that recently premiered at this year's RVX trade show in Salt Lake City, UT. This concept RV (codenamed Sonic X), started out life as a humble Venture Sonic 220VRB lightweight travel trailer. It was designed as the perfect city escape for the ultimate adventurer.
Venture's Sonic X is loaded with technology and modern appeal inside and out, and we'd like your first impressions and thoughts on what makes sense to you and what doesn't; what you see as a benefit or drawback when camping. Simply answer the following questions and hit 'submit', so we can include your thoughts as we fine-tune this trailer and make it a reality!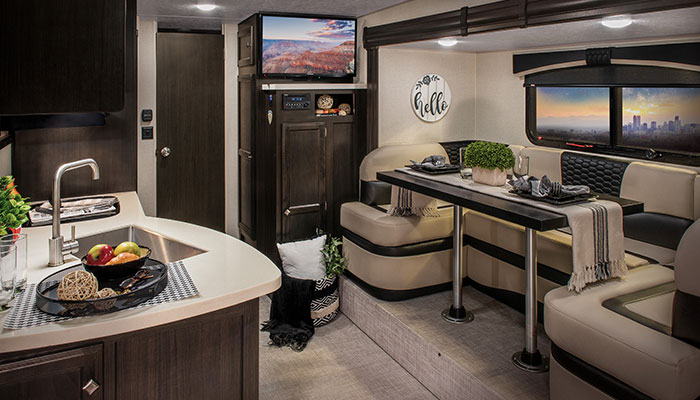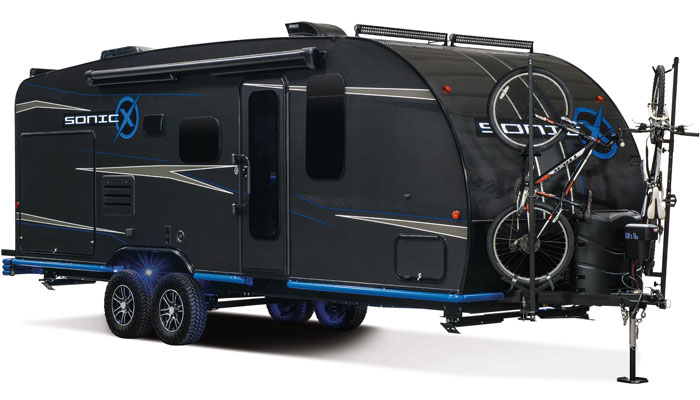 Sonic X Features
Featherweight carbon fiber allows for small tow vehicles like mid-sized SUVs.

Secondary infinite water system filters any water source, including rivers & lakes.

Nearly 100-gallon massive freshwater capacity.

1,000-Watt solar panels w/9 lithium-ion batteries.

Exterior entertainment center w/HDTV, Bluetooth, sound bar & PS4 gaming system.

Ultra-soft Euro-design furniture w/midnight accents.

LevelMate PRO leveling system (exclusive).
X-Factor Extras
Rear kayak rack holds up to 4 bikes on front rack.

Concealed wall safe, plus hidden storage for fishing poles or hunting rifles.

(4) Roof-mounted LED light bars.

Nerf bars & rock-buster skid-plate for ultimate protection.

Torsion axles w/aggressive off-road tires on a huck-bolted frame tackle rugged terrain.

TOGO app-based RV guide.