Venture RV Announces Brand New Website
June 11, 2015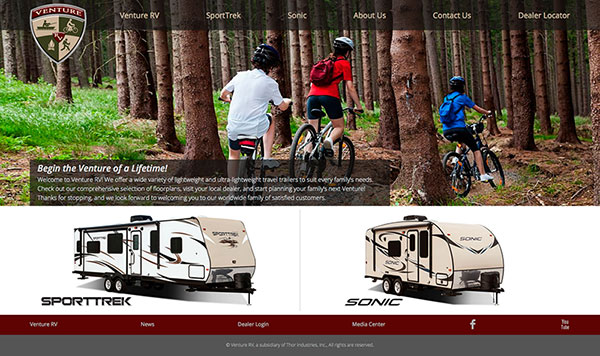 SHIPSHEWANA, INDIANA – Venture RV announced the completion of a redesign of the company's websites supporting SportTrek and Sonic ultra-lightweight travel trailers.
"The new consumer-friendly websites are responsive to mobile devices, enjoy an open design, and are more intuitive for users," explained David Boggs, Venture product manager. "Each page is print friendly, and the new photo gallery displays all product photography for each unit. Additional lifestyle images are being added every day to support consumer and trade press opportunities, and customers will appreciate cutaways of the product lines," Boggs continued.
An MSRP builder is accessible for dealers, and a media center offers all available product images in low and high res formats for use by the media, dealer body and general public. Also available for download on the media center are POP support materials, such as floorplan posters and logos.
Venture RV, a division of KZ RV, is headquartered in Shipshewana, Indiana. For more information concerning Venture RV and its ultra-lightweight SportTrek and Sonic product lines, please visit www.venture-rv.com, or call (888) 988-8440.
CONTACT: Michael Dragoo
Director, Marketing Communications
Phone: (800) 768-4016, ext. 312
mdragoo@kz-rv.com