KZ Spring Service Seminar a Success
February 2, 2016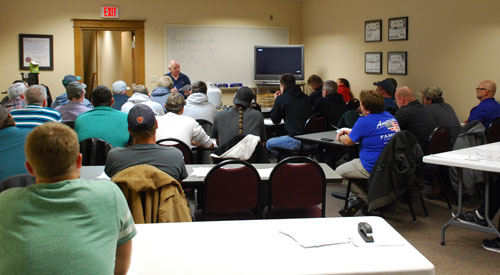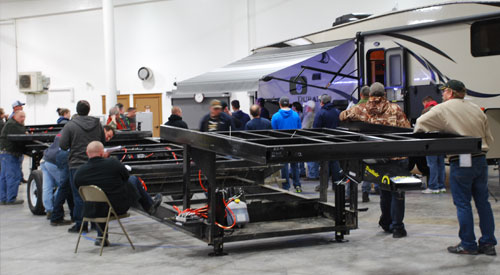 SHIPSHEWANA, INDIANA – KZ announced the completion of its spring dealer service training seminar; its most successful to date. Interest was brisk, as dealers travel from all over North America to attend K-Z's intensive four-day classes. Programs are held in the spring and fall of each year, with two sets of weekly sessions per term.
"The level and growth of dealer interest has been sensational," stated Mark Owens, KZ aftermarket services manager. "Although we've been holding service seminars for the past several years, attendance has grown so quickly that we found it necessary to increase their frequency to twice a year, in January and October," Owens added. Training includes plant tours and classroom study, as well as hands-on product demonstrations.
Supplier technicians from Lippert, Dexter Axle, Graphix Unlimited, Wingard, Schwintek, KIB, Suburban and Norcold demonstrate valuable service and repair techniques. Also, several KZ service technicians are involved in the training, addressing metal replacement and slideroom adjustment and replacement.
Areas covered include propane and regulators, brakes and axles, heating and cooling systems, convertors, awnings, plumbing, sidewalls, electrical troubleshooting, metal and roof applications, hydraulic systems, decals, and appliances.
Aram Koltookian, KZ president, noted that "KZ offers one of the most intensive training programs in the industry, thus allowing our dealers to offer our customers better service from the technicians we train. Courses are designed to fit K-Z's current production techniques, so all information provided is up to date, and we wish to thank the entire service department for another seminar well done!"
K.Z., Inc., a subsidiary of Thor Industries, Inc., is headquartered in Shipshewana, Indiana, and was founded in 1972 on the principles of quality, fairness, courtesy and integrity. KZ produces several widely-recognized brands of recreational vehicles, including Durango, MXT, Sportsmen, Spree, Venom, Venture and Vision. For more information concerning KZ and its products, please visit www.kz-rv.com, or call (800) 768-4016.
CONTACT: Michael Dragoo
Director, Marketing Communications
Phone: (800) 768-4016, ext. 312
mdragoo@kz-rv.com