KZ RV App makes Travel Easy & Intuitive
February 7, 2019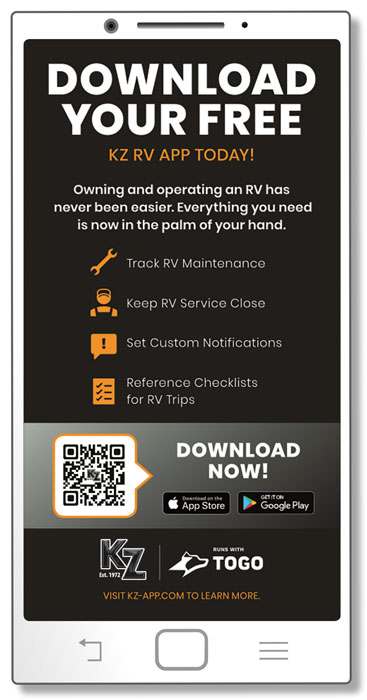 SHIPSHEWANA, IN – KZ announces a new customer care app, empowering owners to log more miles with less trials. "RVing is about making memories, but ownership has practical considerations," said Aram Koltookian, president. "The KZ RV app simplifies the journey, delivering what you had in mind when you bought your RV – your time to enjoy."
Powered by the TH2 technology company Togo, the KZ RV app ensures that owners get top-notch service, providing smart notifications for maintenance and ownership details like vehicle registration due dates, plus access to digital owners' manuals and brand-specific updates. Checklists help with home departure as well as campsite arrival and departure. The KZ RV app also integrates with travel planning tool Roadtrippers, and peer-to-peer RV rental app Mighway. Future enhancements will include roadside assistance, how-to guides and more. The search for sticky notes and tattered folders is over; it's all on your smartphone.
"Internet-based living is expanding, especially as younger digital native populations, who have been immersed in technology from birth, discover RVing," Koltookian continued. "They are driving our future. The rest of us, digital immigrants who embraced technology as adults, can't live without our smart phones either. The KZ RV app is part of the transformation, re-imagining the RV experience. It is indispensable to KZ and Venture owners, even if their units aren't new."
The KZ RV app is available for free download via the Google Play Store for Android and the Apple App Store for iOS. For more information, visit https://www.runswithtogo.com/kz-app-download-now
KZ Recreational Vehicles, a subsidiary of Thor Industries, Inc., is headquartered in Shipshewana, Indiana, and was founded in 1972 on the principles of quality, fairness, courtesy and integrity. KZ produces several widely-recognized brands of recreational vehicles, including Classic, Connect, Durango, Escape, Sportsmen, Sportster, Venom, and Venture RV, including Sonic, Stratus and SportTrek. For more information concerning KZ and its product, please visit www.kz-rv.com and www.venture.com, or call (888) 829-6320.
CONTACT: Michael Dragoo
Director, Marketing Communications
Phone: (800) 768-4016, ext. 312
mdragoo@kz-rv.com