Winterize Your RV Before Storing It
Before you store your RV away for the winter, it's important to prepare it for the season. If you don't prepare your unit for cold weather, the water systems could freeze and break.
The water heater bypass kit is designed to avoid getting antifreeze in the water heater. The kit is standard on some models and optional on others. After you drain and flush your drainage system,
Turn off the pump.
Drain the water heater and entire water system.
Close the valve on the bottom of the bypass kit to prevent liquid from entering the water heater.
Place the siphon hose into a container with

NON-TOXIC antifreeze.

Open the valve V1 on the siphon hose and be sure V2 is closed.
Turn the pump on to supply the fresh water system with antifreeze; it'll take 2 gallons or more depending on the size of your water tanks.
If necessary, place a container under the faucet to catch excess antifreeze.
The closest faucet to the pump will fill first; turn each faucet off as it emits antifreeze.
Take the contents in the container and pour one pint into each drain to protect

each P-Trap.

Any leftover antifreeze in the container can be kept for future use.
It's important that no antifreeze gets into your water heater. It could get costly and can be corrosive to the anode rod. It also leaves sediment in the tank.
To winterize your hot water heater, first make sure it hasn't been operated in the last 24-48 hours. If your unit has a DSI model water heater, be sure to turn the ignition switch off. To drain the hot water heater, remove the anode rod from the heater and allow it to drain completely.
*WARNING: Do not drink water that contains antifreeze.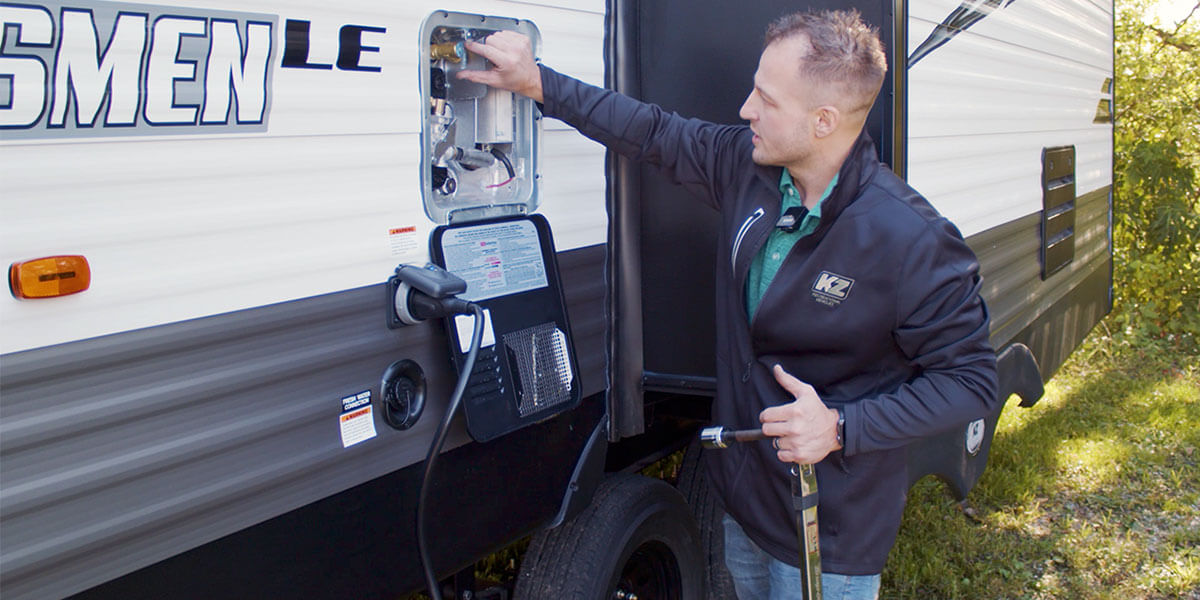 View Video