New Venture SportTrek Touring 343VIB is designed for Today's Campers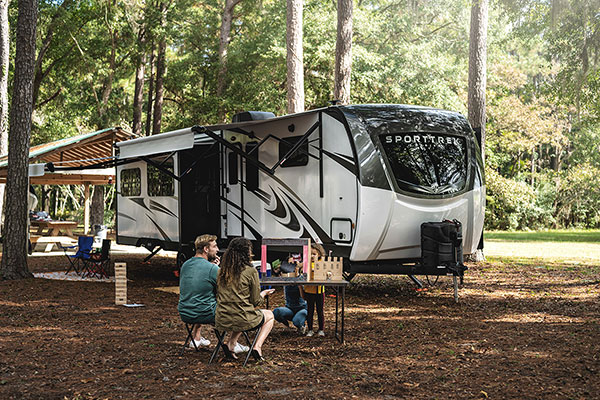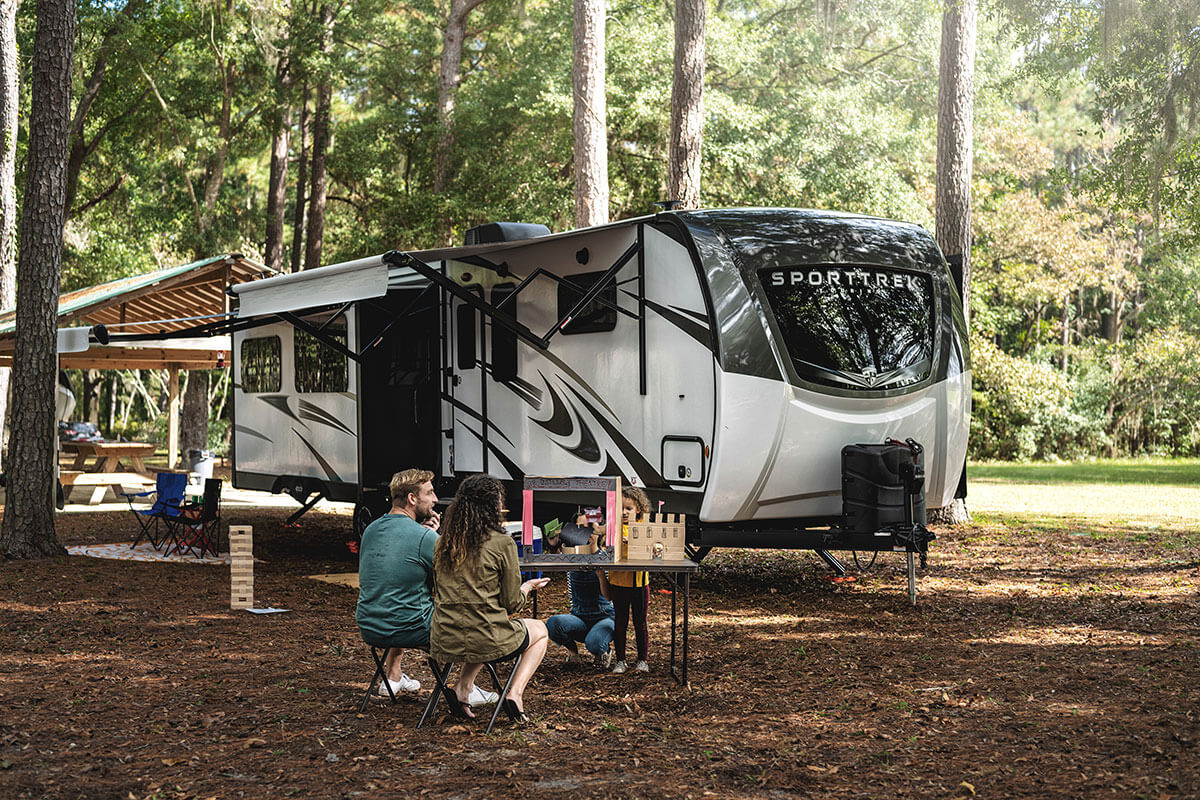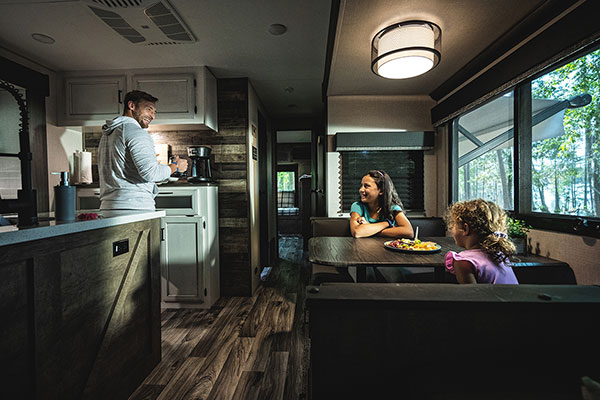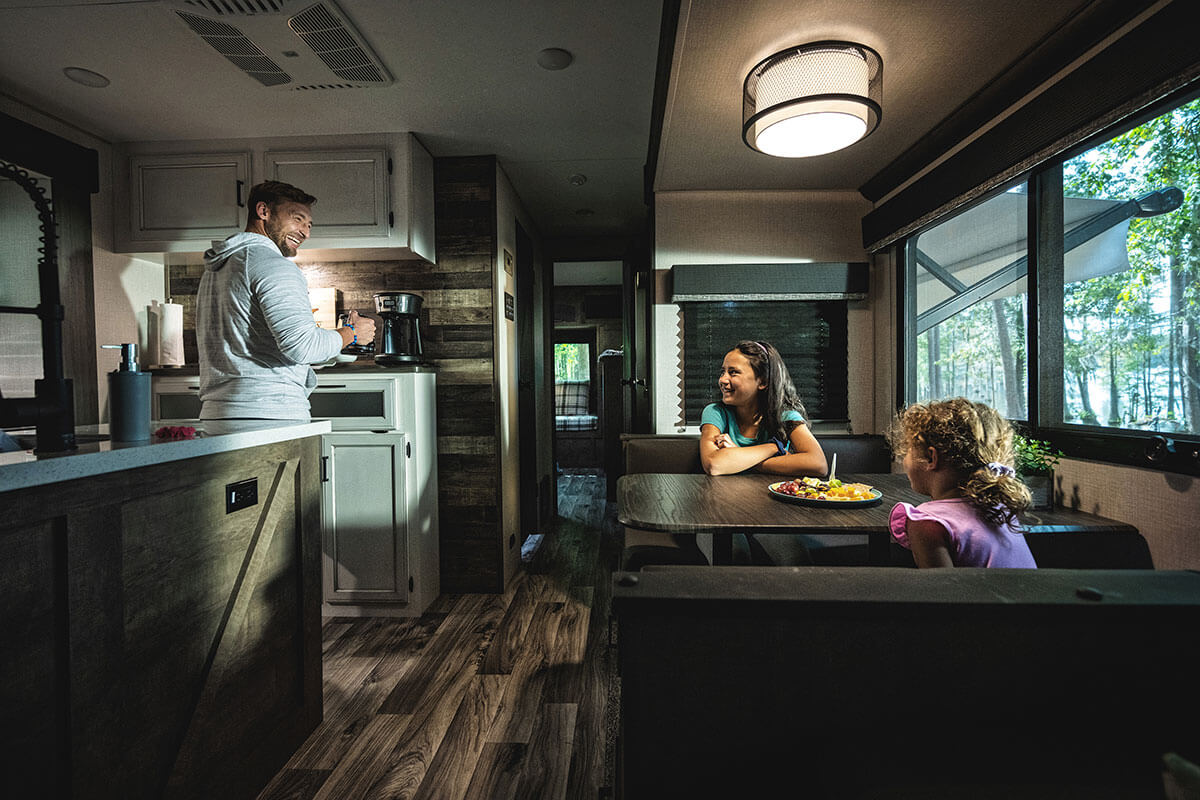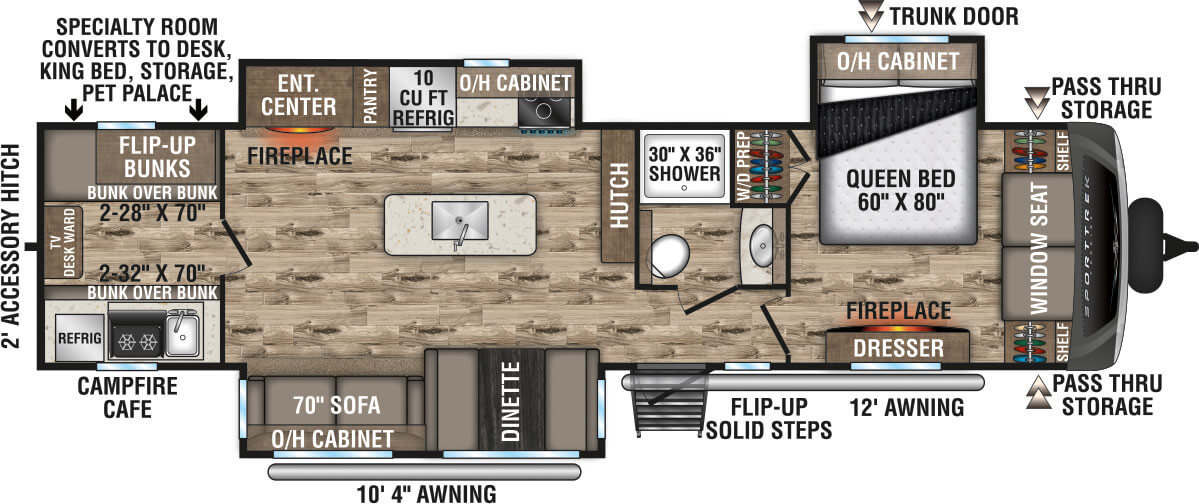 SHIPSHEWANA, INDIANA – Venture's new 2021 SportTrek Touring STT343VIB luxury travel trailer features something special no other RV has – a multi-purpose area with numerous configuration options. Dave Boggs, Venture general manager explains, "The space can be used as a four-person bunkroom with pet palace, or set up as a king bedroom only, a king bedroom with two bunks, or even an office/classroom/craft room with oversized desk plus two bunks. Your possibilities are endless."
The STT343VIB has been designed for today's camper. With most schools opting for e-learning, some families have decided to hit the road and have a family adventure. The 343VIB floorplan is designed to sleep ten! During the day, the bunk system can easily convert into a desk for studies and/or work. For long camping trips, the master bedroom features washer/dryer prep, as well as a queen bed slideout, and a dresser with built-in electric fireplace.
Touring's new farmhouse décor is also proving to be a huge late fall and early spring hit with dealers and retail customers alike. Boggs explained, "Early reports suggest both love the mixed cabinetry featuring antique white and heirloom maple wood finishes, rustic hardware, barnwood backsplash and flooring, and plenty of homey decorative touches." Other popular new features include live-edge counters and residential furniture, as well as an eye-catching master bedroom farmhouse comforter/pillow package.
"We use the slogan 'Designed for campers, by campers' because our products are designed by product managers, engineers, production staff and sales folks who's families all actively enjoy the great outdoors and constantly use our products," Boggs noted. "Without a doubt, this makes Venture RV the best, most practical, creative, affordable choice in RVing!"
Venture RV, a division of KZ Recreational Vehicles, is headquartered in Shipshewana, Indiana. For more information concerning Venture RV and its lines of travel trailers, including Sonic, Stratus, and SportTrek, please visit www.venture-rv.com, or call (888) 829-6320.
CONTACT: Jason Overholt
Director of Marketing and Communications
[email protected]
260.768.4016