Main Meals / Sandwiches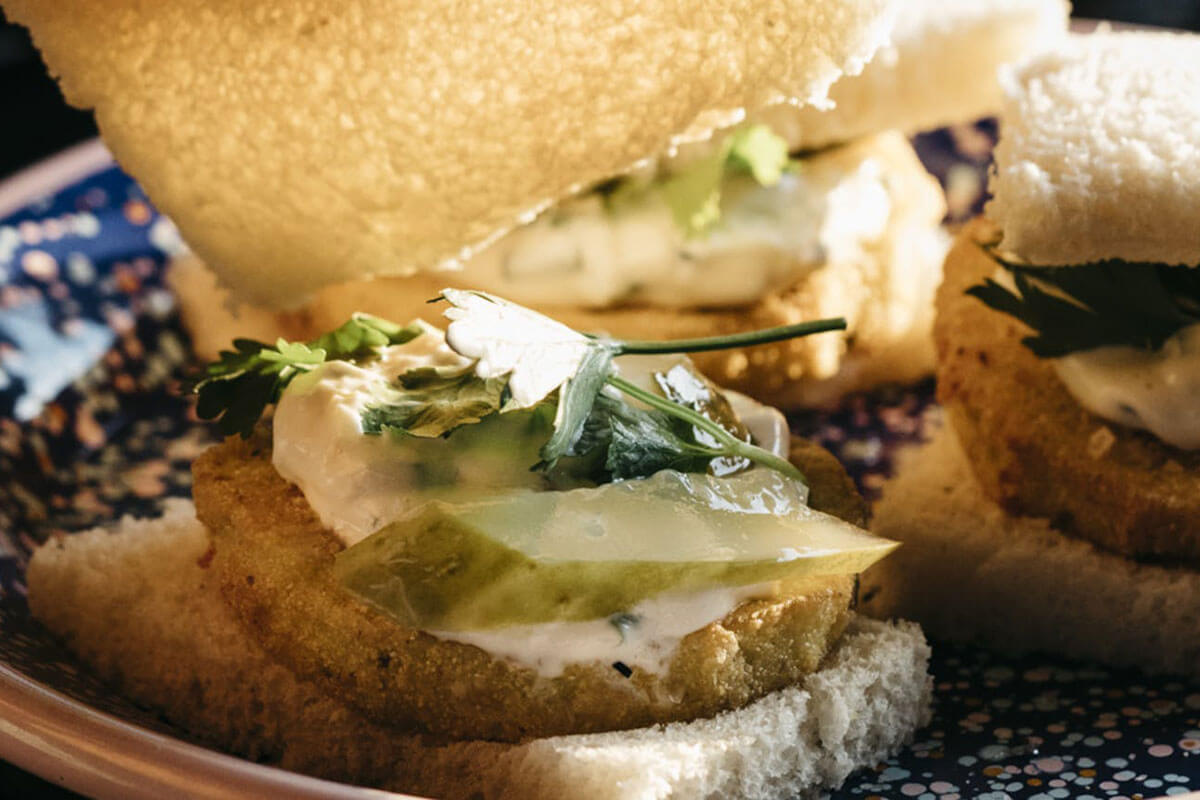 New England Fried Eggplant Sliders
Recipe from Sarah Glover
thorindustries.com/stories/recipe-eggplant-sliders
Slider Ingredients
2 eggplants, peeled and cut into 1/4 inch-thick slices
1 teaspoon salt
8 slices white bread
1 cup buttermilk
3/4 cup self-rising flour
1/2 cup self-rising cornmeal
1/2 teaspoon freshly ground black pepper
Vegetable oil
Herb Mayonnaise Ingredients
1/4 cup mayonnaise
Chives, finely chopped
Zest of 1 lemon
1/2 teaspoon salt
Cooking Tools
Paper towels
Knife
Cutting board
3 bowls, one shallow
Large cast iron pan
Method
Sprinkle both sides of eggplant slices with salt. Place in a single layer on paper towels and stand for 30 minutes. Rinse and pat dry.
Soak the eggplant slices in the buttermilk for about 30 minutes.
To make the herb mayo, combine all the ingredients in a bowl.
Pour oil into a large cast iron frying pan to a depth of 1 1/2 inches, and heat to 375°F or until a cube of bread dropped in the oil browns in 10 seconds. Add the eggplant slices and fry for 3 minutes each side or until golden.
Arrange the eggplant on the bread, top with a dollop of mayo and serve with sliced cucumbers or pickles.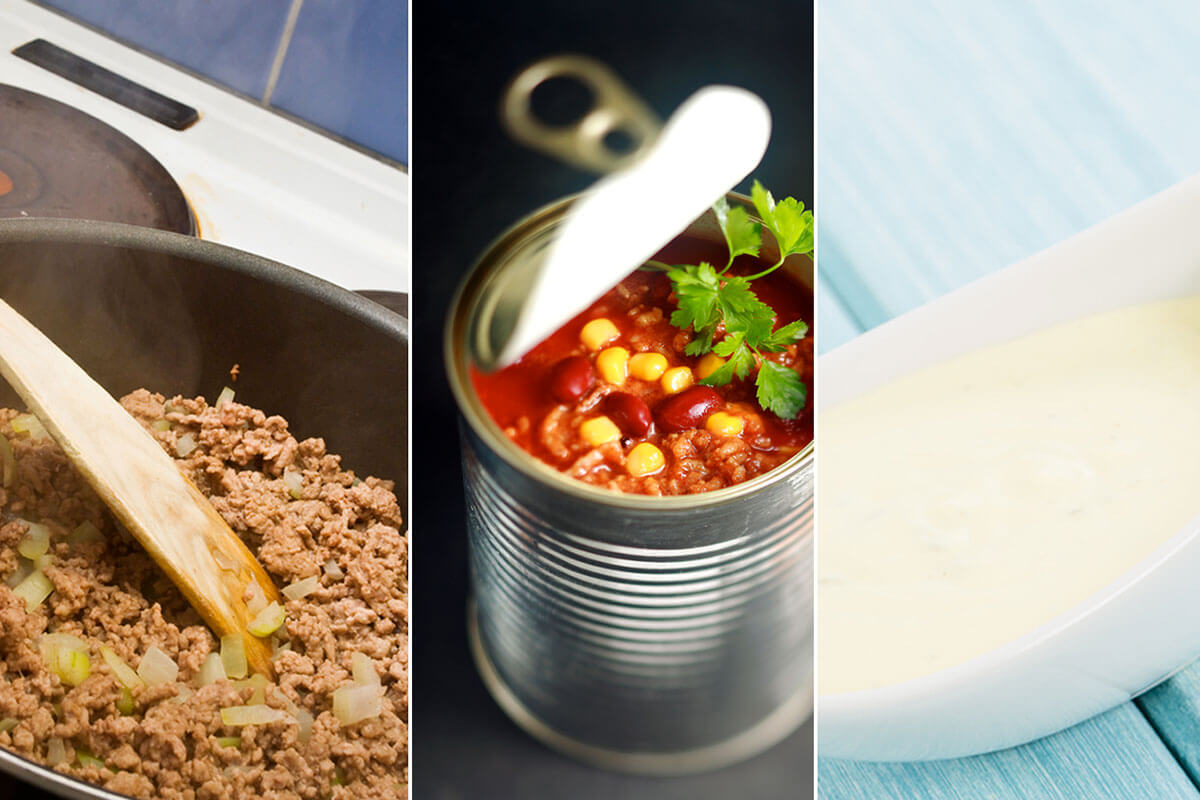 Salmagundi
Salmagundi? Maybe you've heard the name and wondered what it was. Well, today's the day your mind will be put at ease. Salmagundi is a handy one-dish-meal. AND it's a breeze to make. This recipe, served up, will give your family a healthy serving of veggies and meat on a slice of toast to make it filling. So... there you go.
1 lb. hamburger
1 small onion, chopped
1 can vegetarian vegetable soup
White Sauce:
2 Tbsp. butter
2 Tbsp. flour
1 cup milk
Brown hamburger with chopped onion. Salt and pepper to taste. Add 1 can vegetarian vegetable soup.
Make White Sauce: Melt butter; stir in flour to make paste. Slowly add milk, stirring constantly. Microwave 2 minutes at FULL power. Stir. Microwave 2 minutes longer. Stir.
Stir White Sauce into above hamburger mixture. Serve over buttered toast.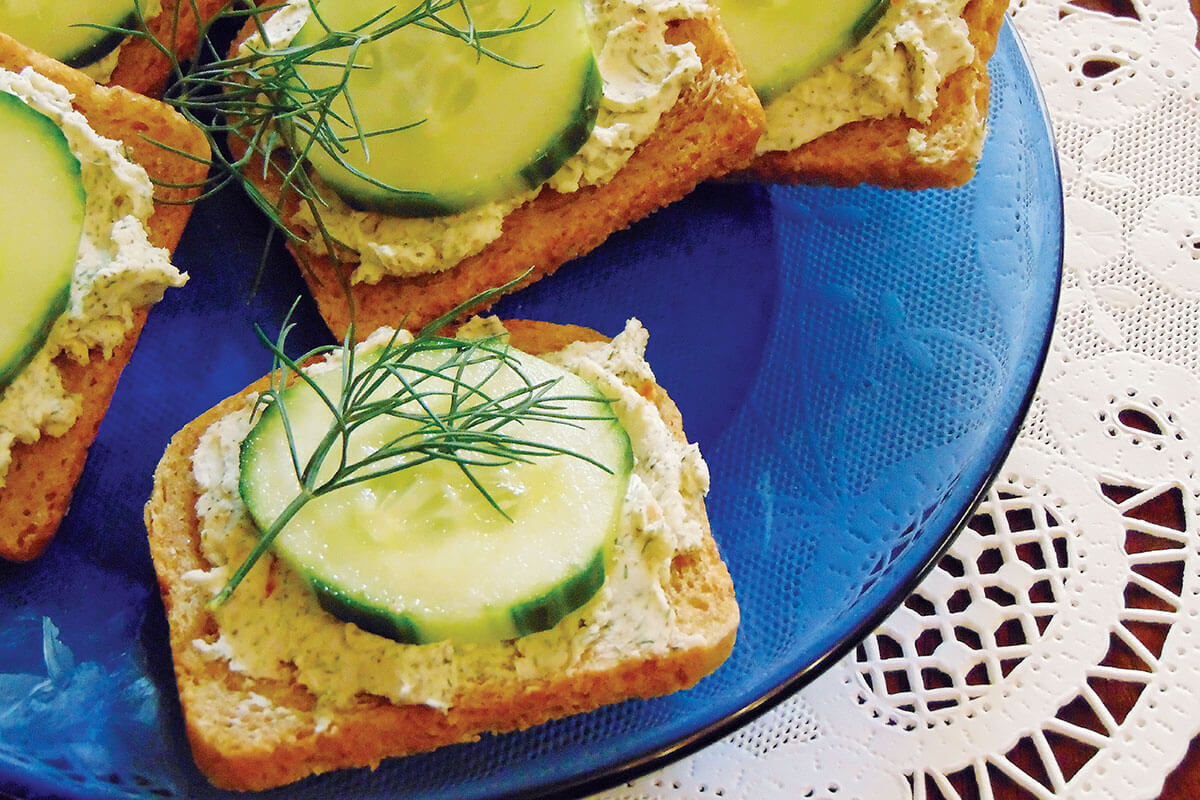 Cucumber Sandwiches
Cucumber sandwiches... they aren't just for tea parties anymore. (Thank goodness.) These tasty treats are an impressive addition to any party!
1 pkg. light party rye bread, sliced
1 pkg. soft cream cheese
1 pkg. Italian dressing (dry)
3 small cucumbers
1 Tbsp. dill
Mix cream cheese and package of dressing. Let sit for 1 hour. Cover slices of bread with mixture. Top with 1 thin slice of cucumber. Sprinkle lightly with dill.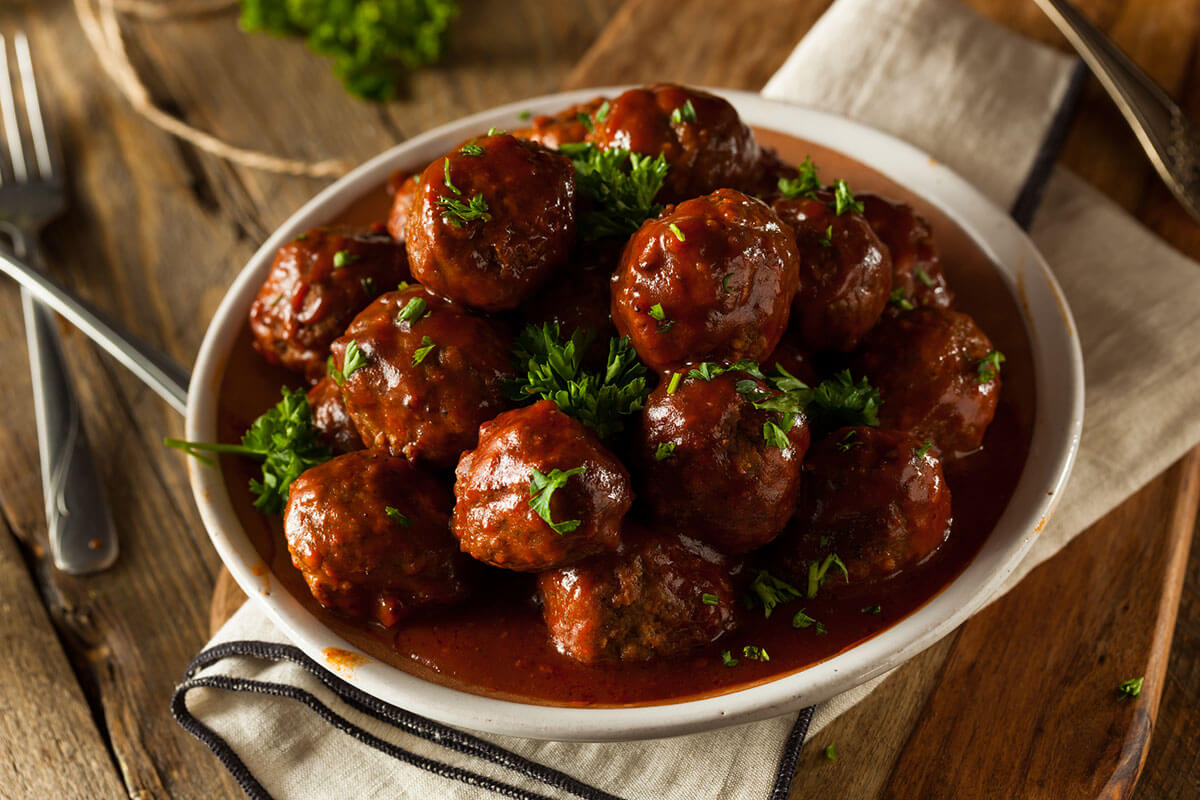 Grape Jelly Meatballs
Mouthwatering meatballs are headed your way... prepare your taste buds for a spicy, tangy treat!
2 lbs. ground beef
1 1/2 Tbsp. salt
1 cup quick oats
1 cup half & half
Mix together, let stand 5 minutes. Shape into balls, brown in oven at 350 degrees.
Sauce:
(1) 12 oz. bottle Bennett's chili sauce
(1) 8-12 oz. jar grape jelly (whipped)
Bring to boil and simmer 20 to 30 minutes over meat.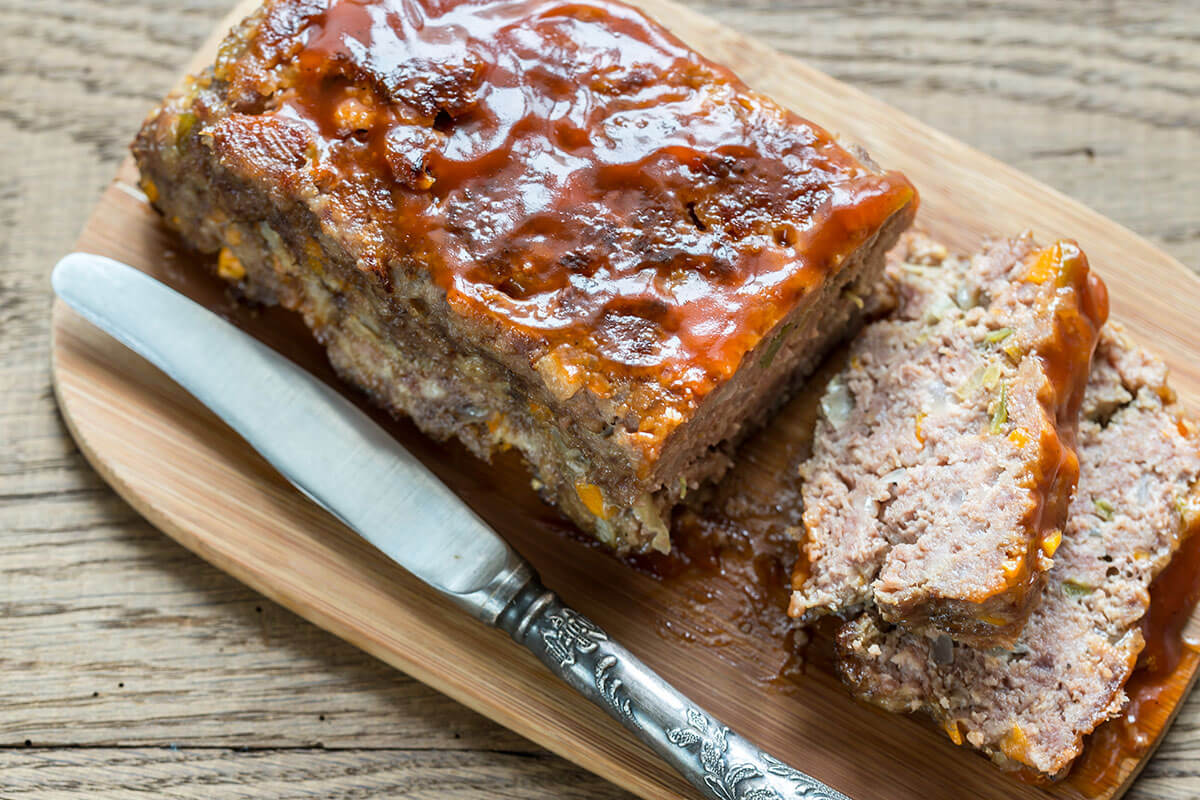 The Best Meatloaf EVER!
Recipe from Walter Conrad
2.5 lbs. ground chuck
1/2 cup chopped onion
1/4 cup diced green pepper
1/4 cup diced carrot
1 large egg
2 cups panko bread crumbs
2 teaspoons worcestershire sauce
1 teaspoon kosher salt
1 teaspoon ground black pepper
1 teaspoon granulated garlic
1 teaspoon tarragon
Preheat oven to 350 degrees. In a large bowl combine all the above ingredients together and mix well. Place above mixture into a well-greased standard-sized loaf pan, pressing it out to fill the pan completely. Liberally brush the top with your favorite BBQ sauce. Place into preheated oven on the middle rack and bake for 1 hour or until the internal temperature reaches 165 degrees. Remove from oven and let rest for 10 minutes. Then, cut into 8 slices of equal thickness and serve.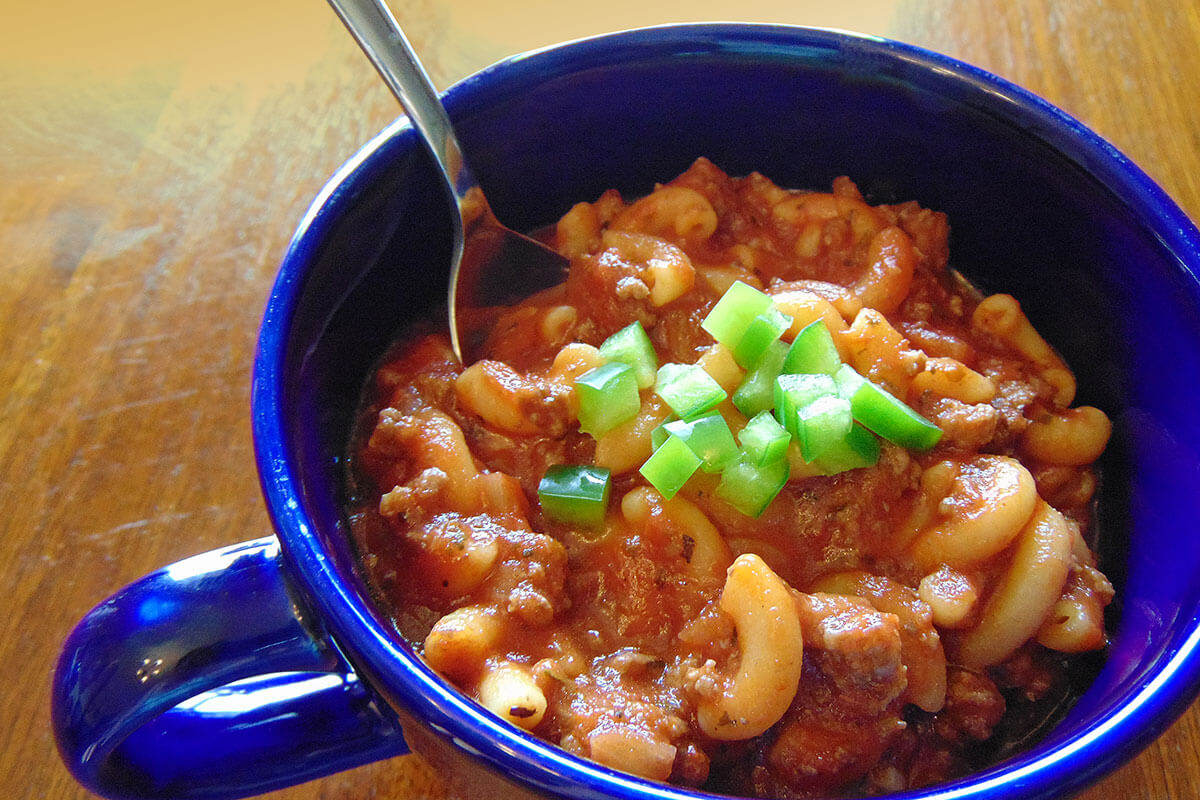 Goulash
Too busy to mess with a load of cooking? Here's a scrumptious one dish meal that satisfies!
3/4 lb. ground beef
1 med. onion, chopped
1 clove garlic, minced
1 tsp. oregano
Salt & pepper
(1) 32-oz. jar spaghetti sauce
1 cup uncooked macaroni
Brown ground beef with onion and garlic. Spoon off excess fat. Add spaghetti sauce, oregano, salt and pepper. Simmer. Cook macaroni, drain and add to sauce.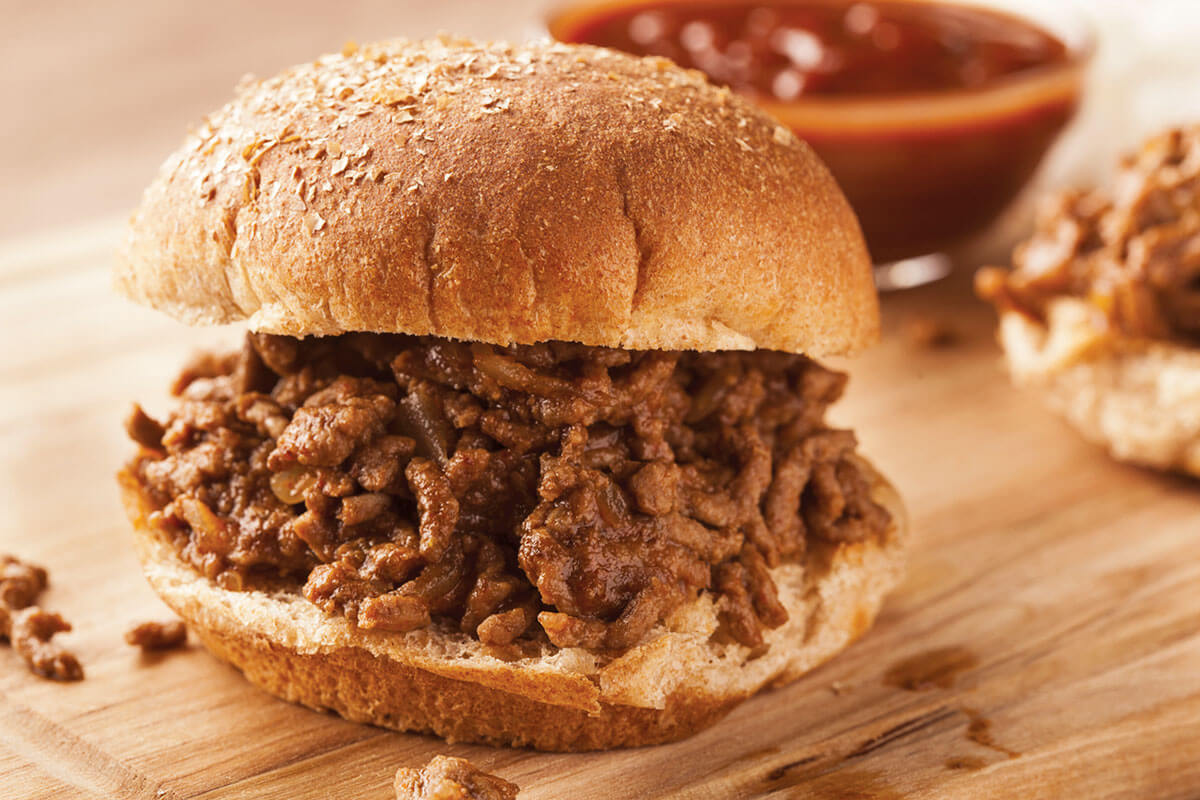 Sloppy Joes
Tasty. Juicy. Sloppy Joes. Well... they do have to be a little sloppy to taste this good. Grab a napkin (or two) and eat up!
2 1/2 lb. hamburger
1 medium onion, chopped
2 1/2 Tbsp. Worcestershire sauce
1/3 cup brown sugar
1/2 cup catsup
1 Tbsp. mustard
1 small (10 3/4 oz.) can cream of mushroom soup
Salt & pepper to taste
Fry hamburger, onion, salt and pepper. Drain off fat if any. Add rest of ingredients. Simmer a little bit till ready to serve.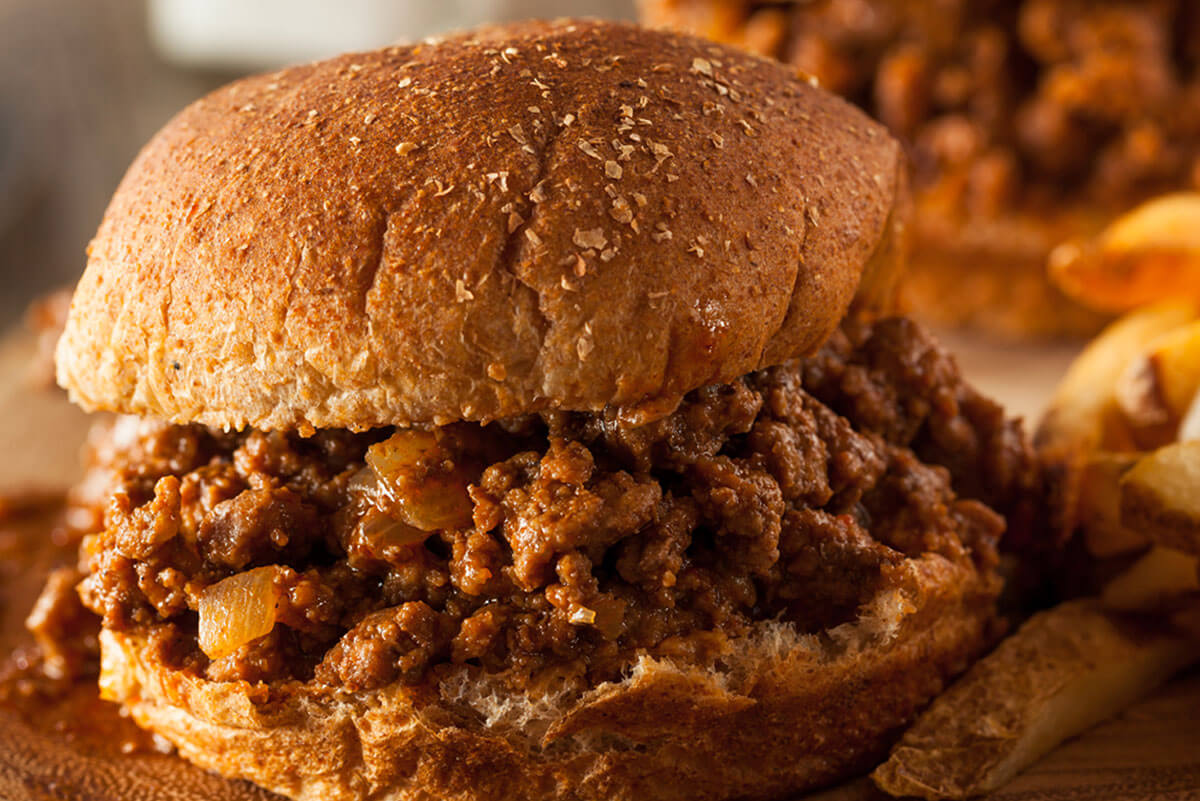 Sloppy Barbecue Hamburger
This recipe is not only easy to make, it's a meal itself. Sloppy Barbecue Hamburger will satisfy your hunger at lunch or the end of the day. You might just want to have it for both!
2 lb. ground beef
3 heaping tsp. flour
7 Tbsp. brown sugar
Mustard to taste
1 Tbsp. vinegar
1 cup ketchup
1 cup water
1/2 cup chopped onion
Brown ground beef; season with salt, pepper and onion. In bowl, mix together all other ingredients. Add to browned meat. Cook, stirring occasionally, until thickened. Serve on hamburger buns.
This can also be made in a crock pot by browning beef and adding all other ingredients in crock pot. Cook until thickened.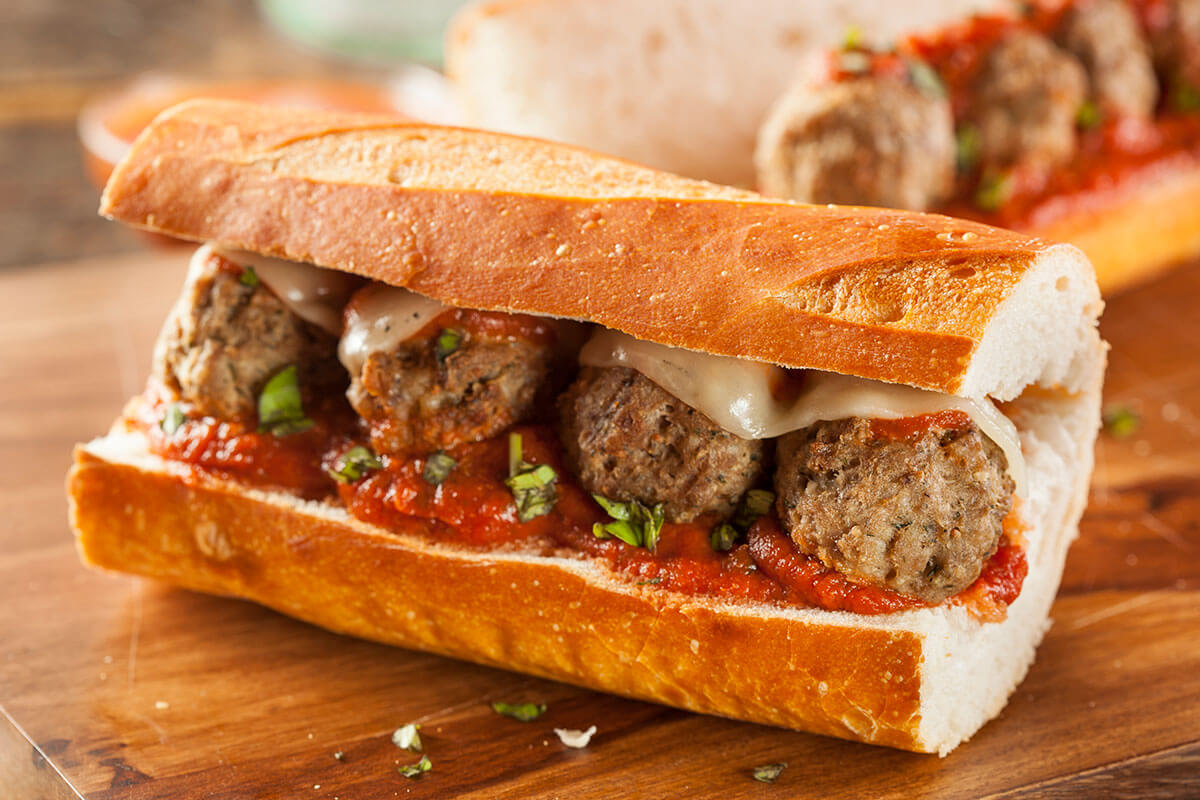 Meatball Sandwiches
Here's another fun one for the crock-pot... and these aren't just any meatballs! Super full of flavor, melt-in-your-mouth moist, these are the best meatball sandwiches. Camping and cooking, combine them and you have food heaven! This recipe offers a great way to refuel after a day of outdoor fun.
1 lb. ground chuck
1 tsp. dry onion flakes
1 Tbsp. grated Romano cheese
Garlic salt
Pepper
Salt
1 slice hard bread crumbled
1 lg. egg
Sprinkle of dry parsley
1 lg. jar Ragu sauce
Mix all ingredients well. Boil 2 or 3 quarts water with beef bouillon cubes. Roll meat into very small (1 inch or less) meatballs. Drop into boiling bouillon water, boil until they rise to top. Put meatballs in a crock pot with Ragu sauce and cook slowly for a few hours.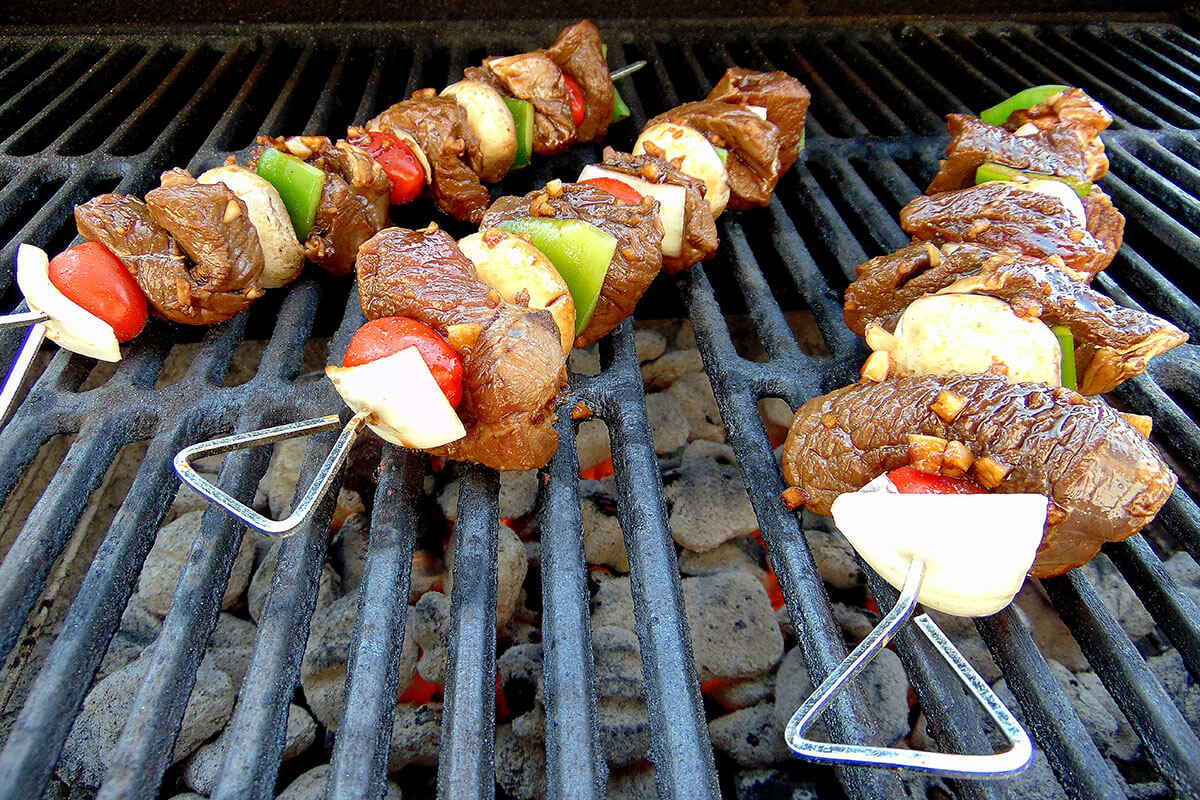 Shish Kebabs
Best shish kabobs of the year... these little babies are GREAT on the grill!
1 lb. sirloin steak
Fresh mushrooms
Green pepper
Onion
Cherry tomatoes
Marinade Sauce:
1/2 cup soy sauce
2 Tbsp. oil
2 Tbsp molasses
2 tsp. dry mustard
1 tsp. ground ginger
4 cloves garlic
1/4 cup water
Cut garlic in half. Mix all sauce ingredients together. Cut sirloin steak in 3" x 1 1/2" strips. Put steak into marinade sauce and soak for about 15 minutes. Clean mushrooms and leave whole. Cut green pepper in chunks. Peel onions and cut. Put on skewers alternating meat and vegetable, until you have enough on each skewer. Grill. While grilling, baste kebabs often with marinade sauce for flavor.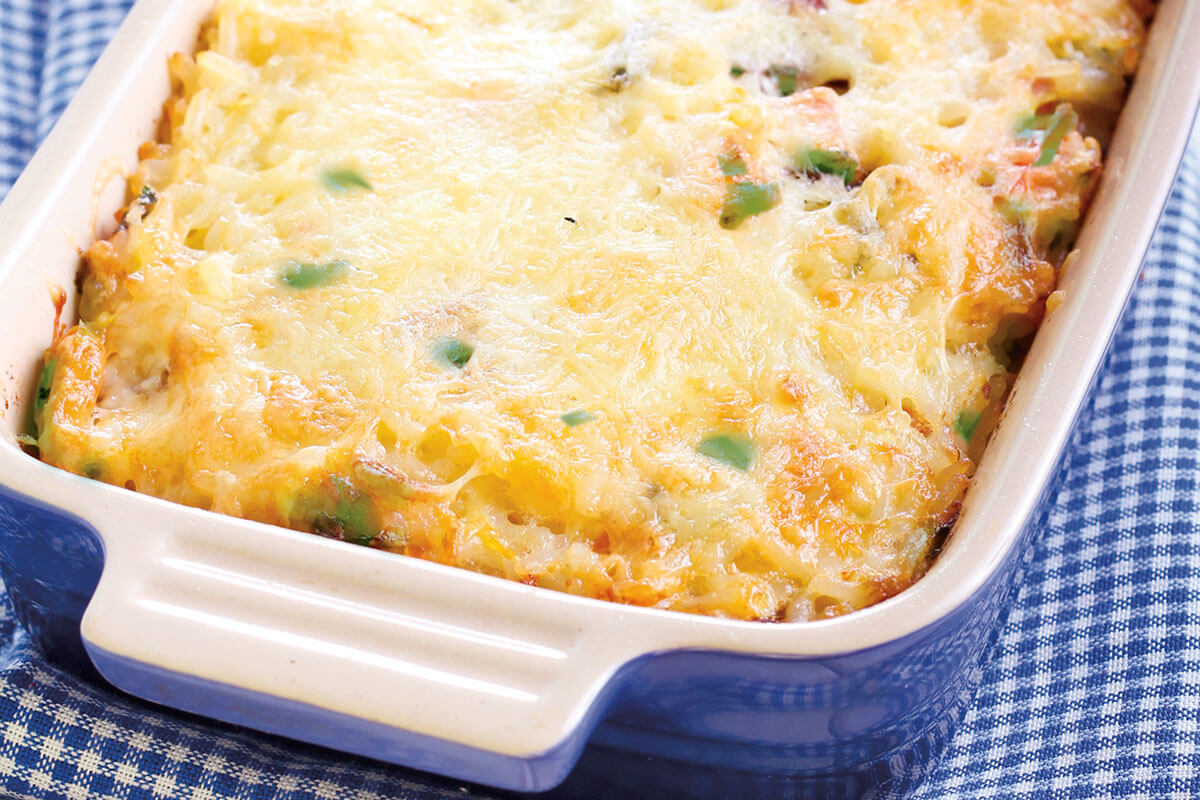 Hamburger Surprise
This protein packed meal is a great way to replenish the energy reserves after a long day of enjoying the great outdoors.
1 lb. hamburger
1 can onion soup
1/2 green pepper, chopped
1 small can mushrooms
1 or 2 cups cheese (any kind)
3/4 soup-can rice (Minute Rice)
3/4 soup-can water
Brown hamburger and drain; add green pepper, mushrooms, soup, rice and water. Cover and cook on medium heat for 10 minutes or until rice is tender and most liquid is soaked up. Put as much cheese on top as you like and cover for a minute or two, until cheese is melted. Serves 4 to 6.